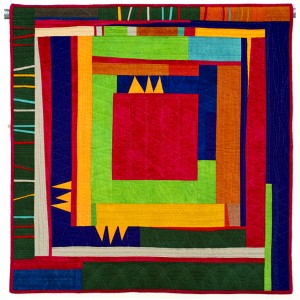 Gwen Marston: Abstract Quilts in Solids
In the mid 70's Gwen saw an exhibit of spirited antique quilts at her local art museum which convinced her to become a quiltmaker. She began as most quilters do, by learning how to make quilts from traditional patterns passed down through the generations. Drawn to the old quilts, she saw a lot of them which clearly were original work made without a pattern, and it wasn't long until she turned a corner and began designing her own work.
She has always preferred simple, uncomplicated, informal design with an element of the unexpected tucked in. Always having an appreciation for the history of quiltmaking, she looks to antique quilts for inspiration and you can see influences of Amish, African American and unorthodox pieced quilts in her work. More recently her work is ever more stripped down, ever more minimal, with inspiration coming from historical quilts and modern art. With a large body of work, she also revisits ideas from her previous work: now you can see influences of Gwen Marston in her work.
When making contemporary, abstract quilts she works almost exclusively with solid fabrics. She prefers solids for a host of reasons, none more important than the fact the line and form are more clearly defined: solids emphasize the delineation between shapes whereas prints can blur the edges of adjoining shapes.
Sponsored by: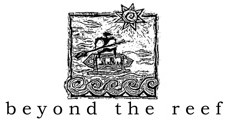 ---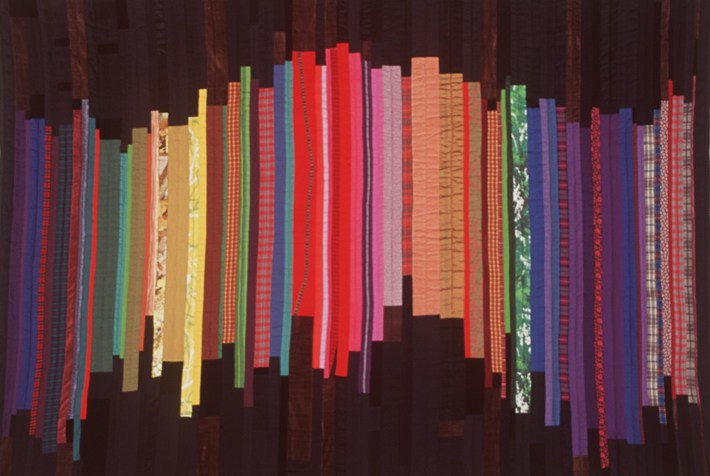 The Quilts of Molly Upton
Molly Upton (1953-1977) was a pioneer in the nascent art quilt movement of the nineteen seventies. While others around her were making traditional quilts of the few available calicos, Molly found a way to paint with the many other fabrics available to her—velvets, silks, corduroy, and polyester blends.
She briefly majored in art at universities in the mid-west and then New Hampshire, and received encouragement to stick with this unusual medium for a fine artist at the time—fabric. She traveled abroad and then returned to make more quilts, experiencing success with exhibits in Boston and Cambridge, MA.
Molly Upton's quilts range from huge to tiny, but all exhibit a mastery of color, rhythm, and composition. Bright colors dance in dark backgrounds in non-representational compositions. Some quilts seem based in tradition with carefully constructed themes of trees and buildings, and others are just fun statements of everyday things. Molly left this planet at the age of 23, leaving us a legacy of many quilts, most will be exhibited at QuiltCon 2016.
Sponsored by:

---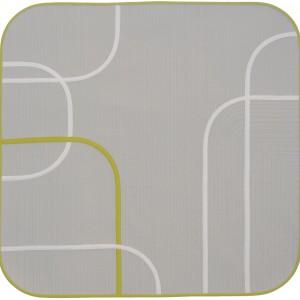 The Modern Quilt Guild's 2015 Quilts of the Month
Each month, MQG members receive a free pattern, designed by an MQG member.  Productions of the 12 quilt patterns from 2015 will be displayed in one exhibit.
Sponsorship available. Please email Heather.